We like to think of all our customers as valuable members of the Pine Belt family. To welcome you to the family and show how thrilled we are that you're joining us, we'll automatically enroll you in our Pine Belt Rewards program! Membership is complimentary with the purchase of a vehicle from any dealership in the Pine Belt family. With your membership, you're privy to exclusive savings, benefits and the VIP treatment each time you walk in our doors.
How it Works:
Swipe your rewards card or key tag each time you make a purchase at our service and parts department.
Earn back 10% of all purchases made in Pine Belt points. One dollar equals one point!
Earn up to 2000 points -- or $2,000 -- off your next vehicle, on top of rebates and special pricing
The first 50 points ($50) comes loaded in your new account instantly, and you get an additional 100 points ($100) just for making your first transaction. That's not all though! There are plenty of other ways to earn points. Our rewards card is our way of saying we appreciate your business, and our way of thanking you for continuously choosing Pine Belt for all your automotive needs. For more information about your new rewards card, visit our dealership in Lakewood today.

We'll help you diagnose your engine light issue for free!

If you are a medic, firefighter, teacher, police officer or in the military, you qualify as a Community Hero!  For serving our community, Pine Belt wants to thank you and offer you a chance to save big.  On top of all of the benefits within the rewards program you will receive 15% off any and all service, parts, and accessories for as long as you own the vehicle!

We all need a tow from time to time! Rest assured that repairs carried out for Rewards customers at our Pine Belt service dept are eligible for towing reimbursement!

Lost your car key?  No problem!  Pine Belt will help return your lost key at no charge!

Some Rewards customers are eligible for dent repair on many minor dents - contact us for details!

Some Rewards customers are eligible for window chip repair on many minor chips to windows or windshields - contact us for details!

Some Rewards customers with leases in place are eligible for Vehicle Damage and Excess Mileage Waivers - contact us for details!

If you need service, we can loan you a vehicle to tide you over until repairs are complete!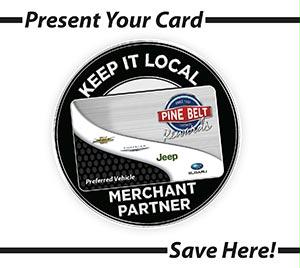 We believe in supporting our local communities. For this reason, we have launched our "Keep It Local" Merchant Partnerships. When you support our local businesses and present your Pine Belt Rewards card or key tag, you will be rewarded with exclusive everyday discounts!
---
All offers exclude alcohol. Offers not valid with any other promotion, discount, or sale. See merchant for additional details. Must present valid Your Smart Way To Rewards key tag or card at time of purchase. Not valid on some holidays. All offers expire 12/31/2019.
Earnings Program
Service
Vehicle
Earnings On Qualified Purchases
Customer Appreciation Bonus
First Transaction Bonus
Pre-Paid Factory Maintenance Bonuses
100K Club Bonus
Birthday Bonus
Body Shop Bonus
Friends & Family Referral
Your Future Vehicle Savings
10%
$25 in Points
$25 in Points
$25 in Points
$50 in Points
$25 in Points
$100 in Points
$100 in Points
Up to $2,000
10%
$50 in Points
$100 in Points
$25 in Points
$50 in Points
$25 in Points
$100 in Points
$100 in Points
Up to $2,000
Convenient Service Advantages




Best Deal Or $1,000
Lost Key Return Service
Members-Only Parts & Service Pricing
Towing Reimbursement Coverage
Service Loaner Vehicle Program
Senior, Military, Educator & 1st Responder Discount
Check Engine Light Evaluation
Alignment Check w/ Service
FREE Battery Check
FREE Multi-Point inspection
Priority Service Scheduling
Reserved Parking
$50 Credit
Paintless Dent Repair
Window Chip Repair
Vehicle Damage & Excess Mileage Waiver
Additional Trade-In Value
✓
✓
✓
✓
✓
✓
✓
✓
✓
✓








✓
✓
✓
✓
✓
✓
✓
✓
✓
✓
✓
✓
One
Up To $100
Up To $100
Up To $250
Up To $250

Exclusive Member Privileges




Gift Certificate Rewards
Merchant Network
Personal Travel Concierge
Members-Only Promotions & Events

✓
✓
✓
✓
✓
✓
✓
✓